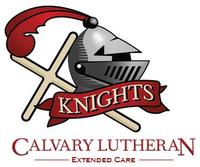 At Calvary, we understand that not all work schedules permit drop-off
and pick-up at the exact times of day that school begins and ends. If you find yourself in this situation, we invite you to send your children to Extended Care! We are available from 6:45 am - 6:00 pm and we meet either in the Gym or in the Cafeteria (depending on the time of day).
Our Extended Care program includes a small snack and makes available age-appropriate activities, including indoor and outdoor playtime.
---
Extended Care is reasonably priced at $1.50/half-hour, plus a one-time registration fee.
[Additional fees are incurred for each minute past 6:00pm.]