Greetings from our Director of Admissions!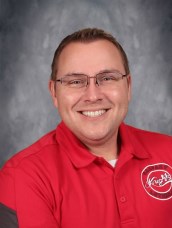 Hello! My name is Jason Scheidt, and I want to thank you for considering Calvary Lutheran School for your child's school home. Choosing a school for your family is one of the most important decisions you will ever make. Here at Calvary, our faculty and staff understand this and make every effort to partner with you in this decision. I am here to help walk you through the opportunities available at Calvary. Whether your child(ren) are in Preschool or entering Middle School, Calvary has much to offer your family.
I can answer any questions you have about Calvary, schedule your tour of our facilities, arrange a meeting with your teachers, or set your student up to be a "Knight for a Day." Feel free to contact me anytime.
Thank you for taking the time to learn more about the Calvary Lutheran School admissions process and I look forward to meeting you soon!
---
At Calvary, we offer your child an opportunity to join us as a "Knight for a Day" in order to get a feel of what being a student at Calvary is like. We generally have our Knights for a Day join both their current class as well as the class they will attend the following school year, in order to expose them to their potential classmates as well as their teacher. Click here to schedule your child's Knight for a Day experience!