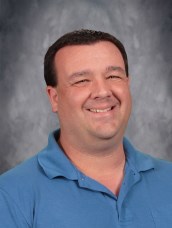 Mr. Dustin Smith is one of our 5th grade teachers.
We are pleased to welcome Mrs. Julia Schmidt as one of our 5th grade teachers!
Calvary's 5th Grade classes do a great job of preparing kids for Middle School! We keep the educational opportunities exciting and interactive. Mr. Smith has introduced a curriculum designed with Google's Chromebooks in a one-to-one environment. Students have exclusive access to their Google Drive and Classroom which enables them to submit assignments online, practice spelling words, memory work, and much more throughout the day. Feel free to contact Mr. Smith if you'd like more information on his curriculum using Chromebooks!
Curriculum
Language Arts
Shurley English
Sentence Jingles
Question & Answer Flow Sentences
Creative Writing Projects
Science & Social Studies
Life, Physical, and Earth Science
American History
US Geography (States & Capitols)
Mini Economy
Math
Mastery Addition, Subtraction, Multiplication, & Division
Geometry
Fractions
Measurement